Stoxnet Driver of the Year 2010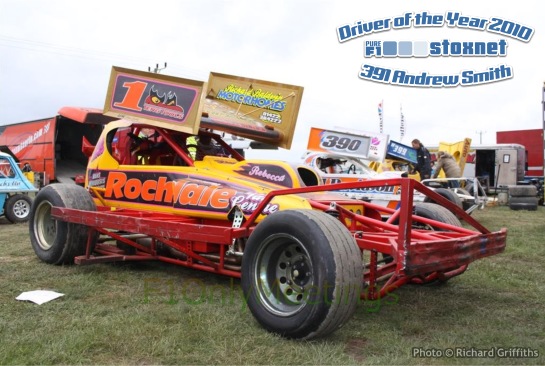 Driver of the Year 2010

1st - Andy Smith
2nd - Paul Hines
3rd - Luke Davidson
4th - Tom Harris

Had to be, really, didn't it. Congratulations to Andy Smith on yet another Award after a dominant Season. Andy also has a remarkable history in the DotY, being in the top three every year since we started the Awards in 2007. Winner 2007, 3rd 2008, 2nd 2009, and now back to the top in 2010.

A big well done also to Paul Hines and Luke Davidson, who both feature in the DotY results for the first time - a sign of the great progress made by both drivers in 2010. Tom Harris moves up one place from 5th in 2009 - there will surely be more to come from Tom in future years.

This Award is derived from a membership vote following each and every 'In Season' meeting which determines the Driver of the Day for each event. The annual award then goes to the Driver who 'wins' the most meetings – a process which means several hundred votes are cast over the year to determine our worthy Winner.
The season's full voting is available on the 2010 archived voting page.