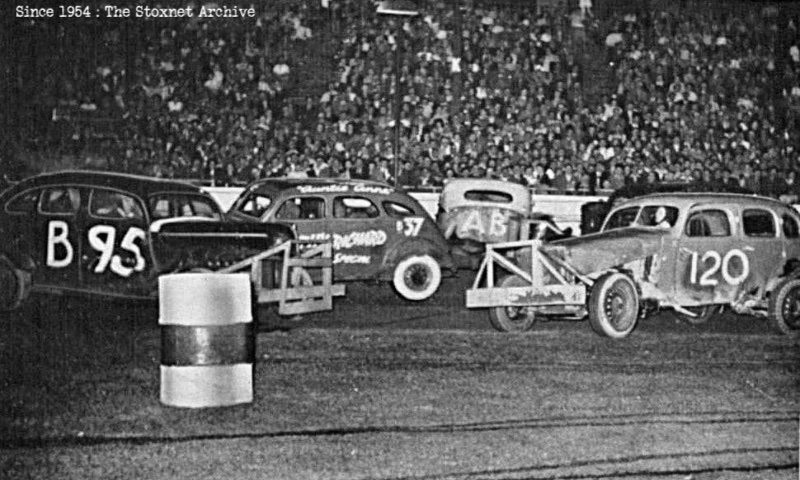 Stock Car Racing was introduced to the UK on Good Friday, 16th April 1954. The first meeting took place at New Cross Stadium, just off the Old Kent Road in London.
Since then, over 6000 F1 meetings have been staged at nearly 100 different tracks, with over 5000 drivers taking part.
This website is an attempt to document the entire history of F1 stock car racing since 1954. It is not complete; it is currently, and probably will always be, a work in progress. Details of mainly the very early days of the sport are missing completely, and a few meetings have conflicting sources.
Last updated 02 April 2020
Contributors
Nigel Anderson (Official F1 Grader 2013-present)
Paul Broderick
Andre Zang
Derek Smith
Rick Young
HMIB Photos (Howard Murtaugh & Ian Bannister)
Colin Casserley
Robert Brooksbank
Barry Tempest (Official F1 Grader 1993-2012)
Paul Tully
Steve Botham
Martin Downs
Richard Park
Roy Bentley
David Kipling
Alison Wilson
Jörg Nöske
John Edington
Tony Maltby
Paul Hindle
Steve Thebrush
Acknowledgements
The 60th Season Final Fact Book - Nigel Anderson & Guy Parker
briscaf1stox.co.uk - Paul Broderick, Kevin Sharp, Granville Holmes
The Thrill Of The Century - Pete Tucker
Wild Bill To Wildcat - Keith Barber
The Definitive History of UK Big League Stock Car Racing 1954-2000 - Keith Barber
Fifty Years Of F1 Stock Car Racing 1954-2003 - Malc Aylott
BriSCA F1: The First Fifty Years - Keith Barber
Stock Car Magazine - Autographics/SCA
StoxWorld - Martyn Clarke, Colin Elmer, Nina Elmer
F1stockcars.com
Old Stox - David Kipling
Defunct Stock Car Tracks - Simon Lewis
H112 - Arjan Ligthart
Rick At The Races - Rick Young
Pete's Stock Car Pages - Peter Marsh