The Stoxnet Forum is now under new management
22 December 2007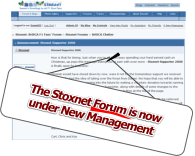 Carl, Chris and Kay have taken over the management and administration of the Stoxnet forum.
During the closure of the forum last week, I moved the hosting of the forum from the previous server to one funded and administered by Carl, Chris and Kay.
They have now opened the Stoxnet Supporter 2008 scheme so that you can contribute towards the forum's running costs. I ran a similar scheme where forum members contributed to my own costs in 2005, 2006 and 2007 and am grateful to everyone who was able to help out. I hope that many of you will continue with your support by registering as a 2008 Supporter with Carl, Chris and Kay.
I started the Stoxnet website five years ago and am proud to have been a part of the community which pulled together to achieve all that it did. The forum opened in 2003 and the photo galleries soon afterwards - both have been fantastic successes and continue to grow and enjoy very strong support.
I'll still be hosting and maintaining the Stoxnet website (that is - all of the pages that start www.stoxnet.com), and will still be hosting the photo galleries (the pages that start photos.stoxnet.com), but Carl, Chris and Kay have now picked up the reins for the forum (the pages that start forum.stoxnet.com).
Daniel